AJC is a community of love and affection

Watch this short video to see what we mean…
Mike Maruca, Head of School, on the culture at AJC:
From the beginning, our primary goal has been to establish and continually strengthen what we call a 'community of affection.'  Why this goal?  Because it is a fundamental need for all of us.  We need to be part of a community where we feel cared for, welcomed, safe, nurtured, and challenged, and where we can make a contribution.  Through such communities we experience what life can and should be like.  They are also the seedbeds of hope.  At a place like AJC where so many of our students lack such an experience, it's a prerequisite for everything else that we do if our aim is to help change the trajectory of our students' lives.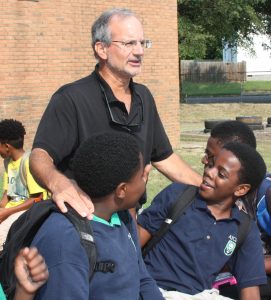 Ask anyone connected with the school if it feels different here.  Ask the small legion of volunteers.  Ask the parents.  Ask the students.  Or ask the graduates who come back.  Ask those organizations who have collaborated closely with us.  I think the resounding answer would be 'yes.'
At the beginning of each year I tell our staff that if we aspire to be a community founded on love then we must be the ones who set that example with one another.  We try to go the extra mile as if it were standard operating procedure.  We make it a point to have each other's backs, to ask for help when we need it, to be honest and to be vulnerable.  The kids see that.  When they do, what's possible becomes tangible.  They change.
At the end of the day our kids need to experience good relationships.  Healthy ones.  Over and over.  And as many as possible.  There's no shortcut for that, and there's nothing that's more important.